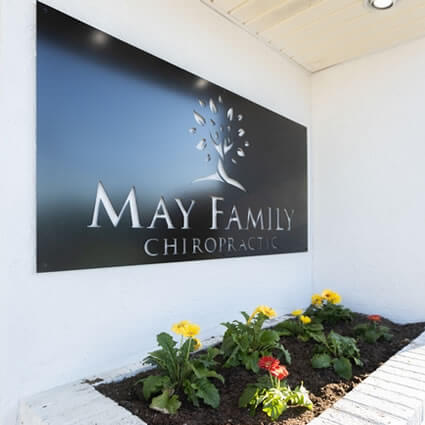 About May Family Chiropractic
At May Family Chiropractic, we're not only here for your immediate concern; we want you to be well for a lifetime. Chiropractic is natural health care that works for every member of the family, young or old. Dr. Aaron May will explain how wellness care can help you get healthy and stay healthy.
Our Mission
Our dream is to get 80% of the population under chiropractic care. There's an opioid epidemic across our nation, and 75% of heroin addicts started from opioid addiction. Pain medications are given to patients by physicians they trust, and they end up addicted. This destroys lives, family relationships, and even jobs.
Chiropractic care can help people get out of pain, and stay mobile longer. This will have a huge impact on our communities. We can do a lot of good when pain is gone.
Sharing Natural Health With Our Community
When Dr. May was looking for where to start his practice, he and his wife, Natalie, traveled extensively throughout the area. They were impressed with the area, its culture, and what his wife calls "the sweetest people ever."
When he finished school in 2015, Dr. May purchased this location, which had been in the community since 1984. Building on this foundation, he continues to provide the Morristown area with quality chiropractic care. Natalie works with him behind the scenes, helping ensure all runs smoothly, and planning for the future.
Our Six Core Values are incorporated into everything we do. They are
Leadership
Passion
Chiropractic
Responsibility
WOW Service
Integrity
A Hands-on Approach
Everything in the body is connected through the nervous system. Our approach is holistic—we don't merely fix one thing or treat individual symptoms. We take the time to find the root of your pain and correct it.
You're not just a number to us; we're invested in your family's health and well-being. When your nervous system is out of balance, it can affect any part of your body. Safe and effective chiropractic adjustments restore balance and allow your body to heal itself.
Questions? We Have Answers!
Tired of pain that won't quit? Don't stress yourself further; we have the answers you seek. Contact us now at (423) 587-5805 to book an appointment!

About May Family Chiropractic | (423) 587-5805